Used Ferrari Planter Planting machines F MAX 3
Contact seller
+31.311.80.63.20.88
Send an email
Company DUIJNDAM MACHINES
2e Tochtweg 127
2913 LR
Nieuwerkerk a/d IJssel
Zuid-Holland
-
Netherlands
Characteristics - Used Ferrari Planter Planting machines F MAX 3
Specialised crops Potato-growing equipment
Additional information Ferrari Planting machines...

Serial number
-
Notes
🇬🇧 Information in English:
Ferrari F Max 3 row planting machine
Distance between the rows is adjustable, currently 50 cm.
Minimum row distance 50 cm
Frame is from 2016
Plant elements are older then 2016, but have been overhauled by a Ferrari dealer
The F MAX machine is suitable for transplanting a wide variety of vegetablesThis transplanter allows to reach a performance of 3,500 plants/hour/row, anyhow it is possible to reach even 5,000 plants/hour/row if the planting is carried out by experienced operators.

More information or a quote? Do this quick and easily via the Duijndam Machines website! You can also give us a call.

See all the available machines at our website.
- Since 1977 supplier of reliable used agricultural and horticultural equipment
- Machines are checked for delivery
- Experienced team
- We can help you with getting the machine to your company

Duijndam Machines
The specialist in used agriculture and horticulture machinery

More information

Field of application: Agriculture
General condition: very good



🇩🇪 Informationen auf Deutsch:

Ferrari F MAX Pflanzmaschine 3 Reihen
Abstand zwischen den Reihen Stellbar ab 50 cm, jetzt 50 cm.
Ideal für verschiedenste Gemüsesorten: Kohl, Brokkoli, Rosenkohl, etc.
Der Rahmen ist aus dem Jahr 2016
Pflanzenelemente sind älter und zijn durch einem Ferrari-Händler überholt
F-MAX verarbeitet verschiedene Schollenarten: pyramidenförmige, zylindrische, konische und eventuell auch Kleine Presserdtöpfe. Passt sich an Pflanzen unterschiedlichster Größe mit bis zu 20 – 25 cm Höhe an.Mit dieser Pflanzensetzmaschine können durchschnittliche Stundenleistungen von 3500 Pflanzen pro Person erzielt werden und geübte Bediener können mühelos etwa 5000 Pflanzen pro Stunde erreichen.

Weitere Informationen oder eine vollständige Angebot? Fragen Sie das einfach und schnell an auf unsere Duijndam Machines Website! Sie können uns auch anrufen.

Alle zuverlässigen Maschinen finden Sie auf unserer Website.
- Seit 40 Jahren zuverlässiger Händler von gebrauchten Landwirtschafts- und Gartenbaumaschinen
- Die Maschinen werden vor Auslieferung geprüft
- Erfahrenes Team
- Wir können Ihnen helfen, die Maschine zu Ihrem Unternehmen zu Transportieren

Duijndam Machines
Der Spezialist in Gebrauchtmaschinen für Landwirtschaft und Gartenbau

Weitere Informationen

Verwendungszweck: Landwirtschaft
Allgemeiner Zustand: sehr gut



🇳🇱 Informatie in het Nederlands:

Ferrari F MAX 3 rijige plantmachine
3 rijen carrouselplantmachine
Rijafstand verstelbaar vanaf 50 cm, op dit moment 50 cm.
Frame is van 2016
Plantenelementen zijn ouder, maar zijn gereviseerd door Ferrari dealer
De F MAX machine is geschikt voor het planten van een veel verschillende groenten.Deze plantmachine kan tot wel 3.500 planten per uur per rij planten, bediend door ervaren medewerkers kan dit zelfs oplopen tot 5.000 planten per uur per rij.

Meer informatie of een volledige offerte? Doe dit makkelijk en snel via de website van Duijndam Machines! Bellen kan natuurlijk ook.

Zie het volledige aanbod aan betrouwbare gebruikte machines op onze website.
- Al 40 jaar leverancier van betrouwbare gebruikte land- en tuinbouwmachines
- Machines worden voor aflevering gecontroleerd
- Deskundig personeel
- Wij kunnen u assisteren met transport

Duijndam Machines
De specialist in gebruikte land- en tuinbouwmachines

Meer informatie

Toepassingsgebied: Landbouw
Algemene staat: zeer goed


Référence parc : 539473,
Type d'intérieur : Autre,
Type de pneus : Simples
Address :
Tweede Tochtweg 127
Nieuwerkerk aan den IJssel - 2913LR
Nederland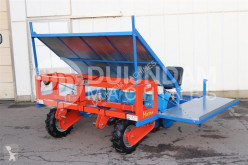 You are interested in this vehicle ?
Don't wait any longer, get in touch with the company
DUIJNDAM
MACHINES
to know more right now !